Major Questions Answered On How To Produce Promo Videos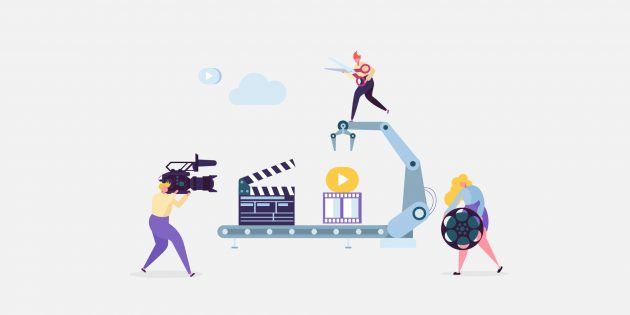 Click Play and Listen to the Entire Article
Marketers and consumers alike know by now that video is ruling the marketplace, and it's not going anywhere. So if you've yet to get on this train or are taking steps but need more guidance to figure out the best ways to get in on video, you're not alone.
We're going to be talking about promotional video production, because in the video marketing space, showing off your business through video will be a huge asset to you, if it's not already something you're implementing in your current strategy.
As many as 96% of consumers like to watch videos before making purchasing decisions online – that's basically everyone! There's no reason to wait since video is such a huge driver in the consumer market these days.
What is Promotional Video Production?
You're also not alone if you have a fuzzy idea of what exactly promo videos are. The truth is they encompass quite a wide range of video advertising, and can be any form of video that tells stories about your company, in their widest definition.
More specifically, promotional videos are a documentary-style video that answer some of your consumers' key questions about your company: What do you do? Why do you do what you do? Who do you serve? Why should consumers go to your company over another? What's unique about your business? And the production part? That's just referring to the way these videos get made, from the nitty-gritty details of cost and time to concept and distribution. Factual and narrative are the tones to hit with promo videos; we'll keep breaking down the next steps to set you up for success.
What's the Goal with Promotional Video Production?
Your promotional message, whatever it may be, should guide all the decision making for the entire project when it comes to promotional video production. You want to do everything possible to communicate your brand's message while connecting with viewers.
However, it's tempting to want to include lots of details about your business, but this is not the place to do so. Think of this video as a story, not a brochure with every fact and figure listed out.
It's also important to know what platform you're going to be sharing this video through and make the video for that audience: this could be anything from your landing pages to Facebook to email campaigns. The clearer you can get your expectations and needs for the video spelled out, the more effective the video promotion will be.
What Makes a Good Promo Video?
A good promo video requires careful and strategic planning beforehand. You want to answer as many of your own questions as possible before you start shooting. These include timeline, strategies, concept, audience, script, style decisions, gear, etc.
Once the video is nearly complete, don't forget to add crucial return-boosting elements like clickable calls-to-action so that your viewers will be guided toward choosing your company over others. A video, with its narrative and emotional appeals, will do a great job setting you up for the connection needed for consumers to take purchasing steps.
Video link: https://youtu.be/I7TK_8RiVj8
What Tools Do I Need for Promotional Video Production?
Some basic gear you'll want to have if you're going solo includes a camera, tripod, interview lighting kit and some kind of audio recording system. It will save you headache in the long run if you invest in some higher-quality equipment at the outset, so you're not dealing with cheap gear breaking down mid-shoot.
When it's time to distribute your stellar promo videos, consider elevating your message through cutting-edge technology like personalization or interactive elements. Not only will you have a great business message to display, you'll captivate more audience with these innovative marketing techniques.
Final Thoughts
We've covered some of the main questions you might have around promotional video production, so that you can get started on this important marketing avenue with your own business. Now you're on your way to producing some high-quality, audience-captivating marketing messages that will help you see high returns.
The site Internet Retailer reported that those who view videos of a product are 85% more likely to buy than those who don't view a video. With numbers like these, the choice to implement video into your marketing strategy now is obvious.
I wish you the very best!